Auto Communicator Trends for 2018
Nearly everyone is talking about connected cars and autonomous driving – even though there's still some skepticism about how imminent it all is. Airfoil teamed up with HBI, an international PR and marcom agency, to conduct a survey of automotive communicators from North America, Europe and Asia to find out how they view the sea-change afoot in the automotive industry.
The results were surprising.
In addition to conflicting views around automated technology, changes in supply chains, and discovering what startups can do to wow OEMs, there were also some regional discrepancies. For example, while self-driving was the largest trend overall, government regulations and policies were top of mind for North American communicators.
The survey results illustrate the importance of a global perspective for companies marketing to – or within – the automotive industry. These organizations can leverage broad-based media coverage as well as key industry events to promote their products and help accelerate acceptance and adoption among consumers.
If your company markets to - or within - the automotive industry, our top five key findings will change how you communicate in 2018 and beyond.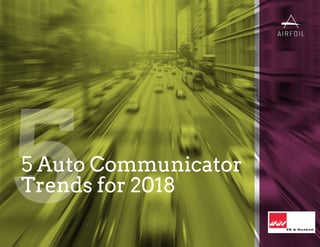 Download our POV for additional survey insights!