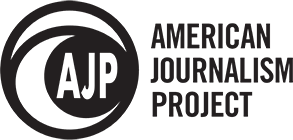 SUPPORT LOCAL NEWS
ABOUT THE AJP
The American Journalism Project is a new venture philanthropy organization dedicated to local news. By providing course-altering investments and venture support to civic news organizations, we are building a new public service media that is governed by, sustained by and looks like the public it serves.
The economics that supported the news industry for most of the twentieth century are no longer viable. As a result, the civic function news provides is under threat. The American Journalism Project was founded to help combat this threat. In other sectors, venture philanthropy has created sustainable new ecosystems that fill gaps left by the market.
Donations can be mailed to:
AMERICAN JOURNALISM PROJECT, INC
718 7th ST NW
Washington, DC 20001
or by connecting with their team:
About The Video
In light of Airfoil's 20th Anniversary we want to bring positive attention to the unique and increasingly important role that journalists play in our culture and democracy. Information and transparency are necessary for public education, decision making, and understanding; in addition to giving voice to different and opposing points of view and a means for story telling. We also want to promote news literacy through supporting organizations including The American Journalism Project and The Committee to Protect Journalists.
Airfoil partnered with the creative team at Eightfold to bring our vision to life.