The members of the Airfoil Team (otherwise known as 'Foilers) are experts in their field. They are up to date on the latest trends, know the public relations industry inside and out, and have a variety of experience that lends itself to our clients. In this blog series, we spend five minutes with a 'Foiler to get the inside scoop on their experience, how their team can help your business, and their takes on the industry's latest trends.
In this week's blog, I sit down with Airfoil Founder and CEO, Lisa Vallee-Smith, to chat about her experience as a female entrepreneur, business owner, and public relations professional.
How did you start working in public relations?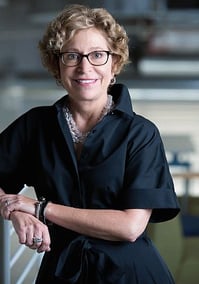 I consider myself to be a PR nerd. It was the first profession that I envisioned as a young woman in high school, in college, and in the early '80s. Then, there were very few white-collar professions that were widely available to women. So, I went to school for public relations. I graduated from Wayne State University with a degree in public relations and journalism, where I learned all these incredible technical skills: writing, news editing, production, debate, and journalism in the law. I had wonderful professors, and my educational experience further reinforced that this would be a great career option for me.
In addition, I happened to grow up next door to a man that was head of public relations for the then J.L. Hudson company. Which, if you're from Detroit, you associate the JL Hudson company with Santa Claus, the Thanksgiving Day Parade, and all sorts of incredibly fun things. I remember thinking to myself at an early age, "I want to do what he does! That sounds so fun." So, I asked his daughter, who also happened to be my best friend, "Janet, what does your dad do?" She said, "He's in public relations." And I'm like, "That's so cool. I'm definitely going to do that." And so that's what I did. And I've loved it even all these 30-35 years.
Tell me about why you created Airfoil Group and the role that you currently play in the company.
I created Airfoil because, like any good entrepreneur, I looked around and saw white space in a category that was growing quickly. In the summer of 2000 early-stage companies in the height of the dot.com were being fueled by wild investment. These companies were growing fast, and there was not a public relations firm that was designed for the unique needs of a start-up technology company. Which is all about speed, fierce competition, scaling quickly, and doing risky things. And, these companies, at the encouragement of the VC firms, were making deep strategic investments in public relations. It was… what? I think one in five new businesses fail? So it played out. I was lucky that the first time I started a new business from scratch, as an adult, it worked, and it caught on.
19 years later, my role as entrepreneur and start-up person continues. This includes starting new things like Airfoil Digital, which we did 18 months ago and has been very successful. That (Airfoil Digital) was a part of a three-year strategic plan to diversify within our industry to pursue net new growth outside of the traditional public relations and communications profession. Which is changing dramatically and has been very disruptive in innovation and technology.
I also am my self-proclaimed Chief Cultural Officer. We went through an exercise to redo our agency values for the first time in 19 years, and that was greatly fulfilling work for me. And it was an opportunity to put my thumbprint on the firm for the next 19 years
What are some interesting projects that you have worked on throughout your career or during your time at Airfoil?
I think the most fulfilling, satisfying, interesting, and challenging projects that I've ever worked on in my career have involved really dynamic CEOs. Whom, I greatly respect- not only for the business that they're in, or their vision but for their personal involvement with their communications and public relations consultants. Among those, I think the most brilliant CEO I've worked with, and I've had the pleasure to be in the same room with, three times, was Bill Gates. He is an extraordinary human being. He is a values-driven leader.
He worked in an extremely disruptive and competitive industry, and he did it all with grace and incredible leadership. He's a family person who has led a very successful personal family, and his foundation is remarkable. He's not the most dynamic CEO, but he really respected his public relations team, his corporate communications consultants, and he was patient and deliberate. So working with incredible CEOs like Bill Gates is the best part of what I do.
What is the greatest challenge of being a female business owner?
It sounds cliché, but it's time and prioritization. Women tend to be benevolent leaders in all aspects of their lives. Whether it's home, family, aging parents, marriage, children, and in the workplace. And again, it sounds cliché, and it's been said since the '70s, but our natural propensity and true energy at times to be able to do it all is a blessing and a curse. So, I think the biggest challenge is being able to rationalize the relative importance and urgency of competing tasks, priorities, fun things, and hard things. That's the biggest challenge.
What is the best piece of advice you have for other women looking to start their own business?
I think it's Nike whose brand Mantra is "Just do it" and I would say that to women who may be flirting with the idea of starting a business. It is incredibly rewarding, uniquely challenging, and it is filled with life lessons on every level. And, for me, it has been the single most creative thing I've ever done. So, I would say, just get out there and do it. Give it a try! One in five businesses fail, but don't be intimidated by that.
In our next 5 Minutes with a 'Foiler, get to know Airfoil's VP of Strategy and Media Relations, Angela Corsi-Leon. Want to be notified when the next blog is released?
To learn more about Airfoil Group's services, client successes, and career opportunities, visit www.airfoilgroup.com.