Royal Oak, Mich., October 5, 2017 – Airfoil, a public relations and marketing communications agency for global technology brands, was honored with an Award of Excellence in the Interactive Media Design category at the International Association of Business Communicators (IABC) Detroit Renaissance Awards ceremony for a campaign it developed on behalf of Microsoft's Small and Medium-Sized Business (SMB) Group.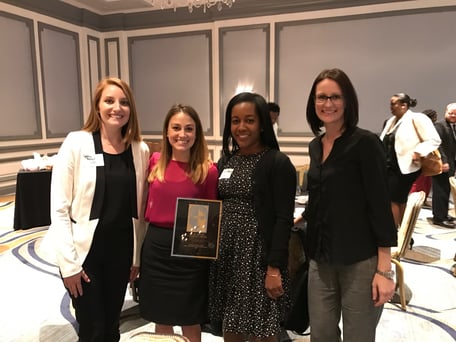 The campaign featured an online, interactive tool designed to guide small-business owners down the path of determining their level of customer obsession. Users answered questions, engaging directly with the content for a personalized experience to help identify and increase customer loyalty, determine how to use modern technology to meet and exceed customer expectations, and turn these recommendations into actions. With amplification through social media, blogs, an audio news release, matte release, syndicated channels and paid social efforts, the campaign resulted in more than 46.7 million views.
"We are very pleased to be recognized by IABC for our creativity, content and design," said Lisa Vallee-Smith, Airfoil CEO. "Our client came to us with the goal of better understanding the pain points SMB owners experience when interacting with customers and we were able to offer them an out-of-the-box solution to help achieve their business goals. Through our insight-driven, integrated marketing approach, we were able to drive leads to their funnel and make an impact on sales."
IABC Detroit's Renaissance Awards have been recognizing the region's best communications programs for the past 36 years.
About Airfoil 
Airfoil is an independent marketing and public relations firm serving innovative companies. Airfoil drives campaigns for a growing client roster across automotive, consumer, enterprise, healthcare, state and local government and other segments of industry. The agency provides services to measure, inform and accelerate clients' marketing communications, digital, social media and brand strategy programs. For more information about Airfoil, please visit www.airfoilgroup.com or follow us at on Facebook and Twitter at @airfoilgroup.
###