ROYAL OAK, Mich., June 12, 2018 – Airfoil Group, an award-winning strategic communications and marketing firm, is proud to be named a winner of a 2018 Silver Anvil award presented by the Public Relations Society of America, for creative excellence in marketing consumer services, financial services. Working in partnership with Perich Advertising + Design, the Airfoil team was recognized for its lead-generation campaign on behalf of the Michigan State Housing Development Authority (MSHDA).
With the goal of increasing MSHDA's annual loan production by 11 percent, Airfoil circulated an online survey to potential Michigan homebuyers to determine the sentiment and awareness of local loan programs. Leveraging key insights from the survey, the communications firm addressed common buyer concerns by implementing a digital-first strategy designed to educate first-time homebuyers on MSHDA's mortgage products.
Over the course of 12 months, the campaign garnered 71 million total impressions, more than 250,000 visits to its microsite and upwards of 51,000 completions of MSHDA's eligibility tool. Most significantly, Airfoil grew the organization's annual loan production by 38 percent, 27 percentage points more than its original goal. In addition to acquiring more leads, this allowed MSHDA to shift additional funds to support its social mission work, which includes creating affordable housing, reducing homelessness and preserving historic places in the state of Michigan.
"We have been thrilled with the results gained from our strategic partnership with Airfoil and Perich," said MSHDA Communications Director Katie Bach. "With their help, we have increased awareness of our first-time homebuyer program and empowered individuals and families who may not have thought it possible to experience the dream of homeownership."
With as much as 70 percent of non-home owning Millennials reporting that it would be difficult to get approved for a home loan based on their current financial circumstances, Airfoil's work with MSHDA symbolizes the tactical forging of public opinion that has become synonymous with PRSA's Silver Anvil Award. Traditionally granted to companies that have successfully addressed contemporary issues with exemplary professional skill, creativity and resourcefulness, the Silver Anvil Award represents one of the most prestigious forms of public relations recognition.
"Our team strives to provide creative strategies and measurable results to our clients every day, and we're proud to be recognized for our work among the impressive group of finalists," said Lisa Vallee-Smith, Airfoil CEO. "We are thrilled to be taking home a PRSA Silver Anvil trophy for our work with MSHDA."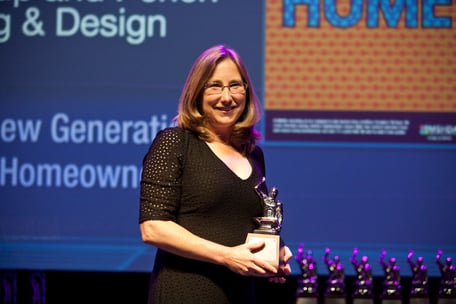 About the Silver Anvil Award
Since its inception in 1944, the annual Silver Anvil Award is the oldest awards competition for excellence in public relations and communication. The iconic Anvil Award symbolizes the breadth of talent among industry practitioners while recognizing outstanding individual professional achievement. Entries are judged on their research, planning, execution and evaluation, while also considering factors such as creativity, ethics and budget.
For more information on the Silver Anvil Awards, please visit http://anvils.prsa.org.
About Airfoil
Headquartered in Royal Oak, Mich., with offices in San Jose, Calif., and New York Airfoil is an independent public relations and marketing communications firm that since 2000 has served as the perceptual architect for many of the world's best-known technology businesses.
Airfoil's team of progressive account professionals and global partners apply a multidisciplinary lens to client communication challenges, including strategy, content development, design, research, public relations, advertising and social media. Airfoil has built a reputation for results and earned its placement on prestigious industry lists such as O'Dwyer's "Top 50 Independent Public Relations Firms," The Holmes Report "Top 12 Technology Firms," PRSA's "Silver Anvil Award of Excellence" and "Silver Anvil Award of Commendation," and Advertising Age "Best Places to Work."
###