Since Elon Musk assumed ownership of Twitter in late October, there has been a steady stream of media coverage surrounding possible changes to the platform. And with new information being released daily, in what has seemed like a never-ending series of unfolding events, it can be hard to keep up with everything that's taken place over the last few weeks.
If your head is spinning from the saga that's ensued, don't worry! We're here to break it down for you.
So, what does Musk's Twitter takeover mean for marketers? While it's too early to tell exactly what the future of the social network holds, there are a few things we're watching closely... and you should, too.
What we know so far...
Over the past few weeks, there has been a constant influx of Twitter news—from executive departures and mass layoffs to pending platform changes, including a monthly $8 verification fee to obtain Twitter's coveted blue check mark— each raising serious questions about the safety, stability and security of the platform. Here's a recap of what we know so far:
Twitter's content moderation policies are being called into question as advertisers seek answers
There has also been conversation surrounding how Twitter's content moderation policies could change under Musk's leadership, with some companies scaling back advertisements on the platform while they wait to see how Musk balances the idea of free speech with policies that prohibit sensitive media and hateful conduct.
Despite growing concerns over changes in the Twitter conversation landscape, there haven't been any publicly announced changes to Twitter's content moderation policy. However, Musk has stated he will be forming a content moderation council comprised of representatives with diverse views, including members of the civil rights community and groups who face hate-fueled violence.
Platform changes are on the horizon as Musk seeks to diversify Twitter's revenue streams
With 90% of Twitter's revenue stemming from advertising, Musk is evaluating alternative monetization options that would further diversify the platform's revenue streams. One such change involved an $8 per month verification fee, which was quickly pulled from the market following a rise in imposter accounts. Whether the service will be restored is unclear.
Other rumored changes include attempts to bring influencers (and their audiences) over with competitive creator monetization tools and the possible revival of short-form video app Vine to compete with TikTok.
When it comes to platform enhancements, Twitter has never been particularly innovative. Though it has implemented occasional "copycat" features, such as the rollout of its Clubhouse-esque Twitter Spaces or Twitter Communities, which bore similarities to Facebook Groups, Twitter has struggled to keep up with competitors when it comes to vying for users' attention.
Twitter's userbase is shifting
In the wake of Musk's Twitter takeover, several celebrities and public figures have announced they're leaving the platform. But perhaps what's more concerning are reports claiming Twitter is losing its most active users. According to analysis from Bot Sentinel, Twitter may have lost more than one million users since Musk's acquisition. Even before Musk entered the equation, Twitter was projected to lose one million users to other platforms over the next five years.
So, what does this mean for your social media strategy?
How do we navigate these murky waters when Twitter news is constantly evolving? Here are some tried-and-true recommendations to help your brand roll with the punches and develop a strategy in the wake of so much uncertainty:
1. Know your audience
It's the first rule of marketing.
If you're wondering whether Twitter should be a primary communications channel for your brand, start by asking yourself this question: Where is my audience spending their time online?
When your team's time and resources are limited, it's best to focus on devoting energy to the platforms that provide the best opportunity to reach your audience with content that's likely to resonate with them. So, let's look at how Twitter's userbase compares to other social media networks.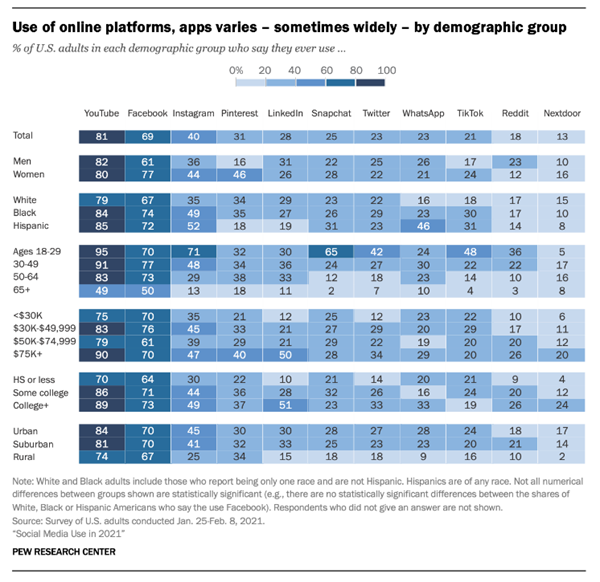 Twitter clocks in with 237.8 million monetizable daily active users, with approximately 77 million users located in the U.S. According to the Pew Research Center, around one-in-five U.S. adults (23%) say they use Twitter which is significantly less than those who report using YouTube (81%), Facebook (69%) and Instagram (40%). Of the U.S. adults that use Twitter:
42% are between the ages of 18-29

27% are between the ages of 20-49

18% are between the ages of 50-64

7% are 65+
Younger generations primarily use the platform for entertainment purposes, while older audiences are more likely to use Twitter for keeping up with news and alternative perspectives on hot button issues. Twitter also has a heavy journalist base, with 69% of U.S. journalists citing it as the social media platform they use most for work.
2. Conduct an audit of your Twitter account
While the above stats provide a high-level overview of Twitter's userbase, you can use social analytics tools to get a better picture of your audience and how they're interacting with you on Twitter.
Not sure where to start? Check out this step-by-step guide on how to conduct a Twitter audit from our friends at SproutSocial, or connect with one of our social media experts.
Pay attention to the following metrics to determine how your organic (and paid!) Twitter content stacks up to other social networks you're active on. Depending on the data, you may find better success reallocating resources to higher performing channels that reach similar target audiences.
Follower growth:

The number of new followers you've gained over a specific period.

Impressions:

The total number of times any user could have potentially seen your content.

Engagement:

How many times users interacted with your content, broken out by likes, replies, retweets and link clicks.

Engagement rate:

A measure of how actively involved your audience is with your content.
With the above metrics at your fingertips, you'll be surprised by the insights you can uncover!
Look for trends
How many new followers do you gain per month on average? Have you seen a steady increase in impressions? Or, has your engagement declined over time? How many customer service requests have you received on Twitter compared to other social media channels? Understanding the bigger picture will help you uncover patterns and visualize how your performance has changed over time.
Identify your best performing content
How is your content performing? Which type of content does your audience engage with most? Look for similarities between top-performing posts. Did they feature a particular type of media, such as an infographic or video? Do they contain certain hashtags? Understanding which posts resonate with your audience (and WHY!) can help inform your content strategy moving forward.
Keep a pulse on your competition
One of the reasons we love using SproutSocial for social media analytics is the ability to analyze competitor performance. With the ability to compare fundamental metrics across Facebook, Instagram and Twitter, we're able to help our clients answer key questions like:
How fast are our competitors growing?

What does their posting frequency and multimedia mix look like?

What messages are they leading with on social, and which posts do people engage with most?

How much engagement do our competitors receive on average?
With the right insights, you'll be able to make smarter business decisions about your brand's online presence and social media strategy.
3. Take advantage of social listening
As a major source of trending internet conversations, Twitter remains one of the best social media networks for social listening. Regardless of whether your brand has an active presence on the platform, you can take advantage of Twitter's open API to gain valuable insight into how your target audience feels about your company, your competitors and trending topics in your industry.
When approached the right way, savvy marketers can use this intel gathered from social listening to develop strategies that align business goals with customers' needs. Here are just a few ways social listening can improve your bottom line:
Gather product feedback and insights

Identify issues and improve customer service

Find potential partners and influencers

Monitor industry trends to inform content and campaigns

Analyze the competition
The bottom line
As Twitter continues to reinvent itself, staying up to date with the latest platform news will be worth your brand's while. While no two experiences with the platform will look the same, staying on top of platform features, analyzing performance data and using social listening are all valuable measures which will continue to prove integral to any social strategy.
Need help developing a social media strategy for your brand? Let's talk! Send us a message to connect with a member of our team who can help you assess ways to turn obstacles into growth opportunities.